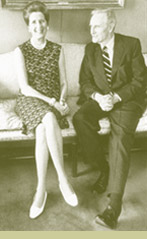 Mr. and Mrs. John D. Rockefeller 3rd


John Davison Rockefeller 3rd was born in New York City on March 21, 1906, the eldest son of John D. Rockefeller Jr. and Abby Aldrich Rockefeller. He graduated from Princeton University in 1929 with a degree of Bachelor of Science and married Blanchette Ferry Hooker in 1932. They had one son, John D. Rockefeller IV, who later became Governor of West Virginia, and three daughters, Sandra, Hope, and Alida.

Mr. Rockefeller's life was marked by a dedication to philanthropy. In 1940, he and his four brothers established the Rockefeller Brothers Fund, of which he was first president. He was also trustee and chairman (1952-1971) of the Rockefeller Foundation, and trustee of the Rockefeller Family Fund, established in 1967. Along with philanthropy, John Davison Rockefeller 3rd's major centers of interest were over-population, the arts, and promoting greater understanding between Asian nations and the United States, particularly in cultural fields. To further these aims, he founded the Asia Society in 1956.

The formation of the collection was begun in earnest after the establishment of the Society, and it was the promised gift of the collection to the Society that served as a primary impetus for the building of the Society's headquarters on Park Avenue. First exhibited in two parts in 1970 and 1975 and given to the Society upon the death of Mr. Rockefeller in 1978, the collection was shown it its entirety in 1981 when the new building opened. The collection now includes not only the works given in 1978 but also acquisitions made since then and a number of objects bequeathed from the estate of Blanchette Hooker Rockefeller, whose generosity to the Society continued after her husband's death.

The collection is noted for its high proportion of masterpiece-quality works and for the scholarly importance of many of them. Universally described as "gemlike," it contains objects from cultures stretching from Pakistan to Japan and Java, from 1000 B.C.E. to the nineteenth century. Although not comprehensive of Asian art history, it does have particular strengths, such as Chinese ceramics of the Song and Ming periods, Chola-period Indian bronzes, and Southeast Asian sculptures.

The collection reflects the personalities of the collectors: refined, understated, and elegant. With the help of the noted scholar of Asian art Sherman Lee, the Rockefeller's chose classical masterpieces rather than building a historical survey. Although the collection comprises fewer than 300 objects, it is nevertheless viewed as one of the most notable collections of Asian art in the United States.